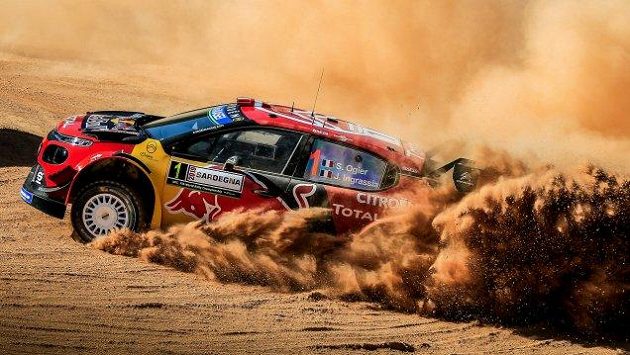 World champion and champion leader Sébastien Ogier did not finish the first stage of the Italian rally. In the fifth stage, the French pilot damaged the front left-hand suspension as he hit the rock and had to resign with an irreparable defect. According to Citroën, he will return to the competition on Saturday, with a penalty for five unfinished tests.
In the lead, nine out of 19 speed exams are Dani Sordo. A Hyundai team member takes advantage of 10.8 seconds ahead of Fin Teem Sunin in the forec and 11.2 seconds ahead of his Estonian counterpart, Otto Tänaka.
Ogier won the quarter-finals, but today was the first rider on the track to clear his way, and during his resignation he was up to the ninth with almost half a minute of loss from Jari-Matti Latvale. Even a Finnish rider will not remember this day in a good way, because soon after Ogic's resignation, he and his Toyota crossed the roof. Although he continued without windshield on the rally, he even won a special stage, but in the final test he finished the track and did not finish the stage.
The winner of the previous two Tänak competitions is on the way to take the lead in the championship. Ogier is the second with just two points in the loss, he has an advantage of eight points against Belgian Thierry Neuvillo of Hyundai, who is seventh in Sardinia with 25 seconds missing.
Jan Kopecký and Fabia are twelfth, Martin Prokop with his feast in one return to the WRC with the 20th rally.
Italian Rally, World Championship in Motor Racing – after the 1st stage:
1. Sordo, Del Barrio (Sp. / Hyundai i20) 1: 36: 01.5
2. Suninen, Salminen (Fin./Ford Fiesta) -10.8
3. Tänak, Järveoja (Est./Toyota Yaris) -11.2
4. Mikkelsen, Jäger (Nor./Hyundai i20) -20.2
5. Evans, Martin (Brit./Ford Fiesta) -20.3
6. Meeke, Marshall (Brit. / Toyota Yaris) -29.5
… 12. Kopecký, Dresler (CZ / Skoda Fabia R5) -3: 01.9
20. Prokop, Tomanek (CZ / Ford Fiesta RS) -5: 40.5.