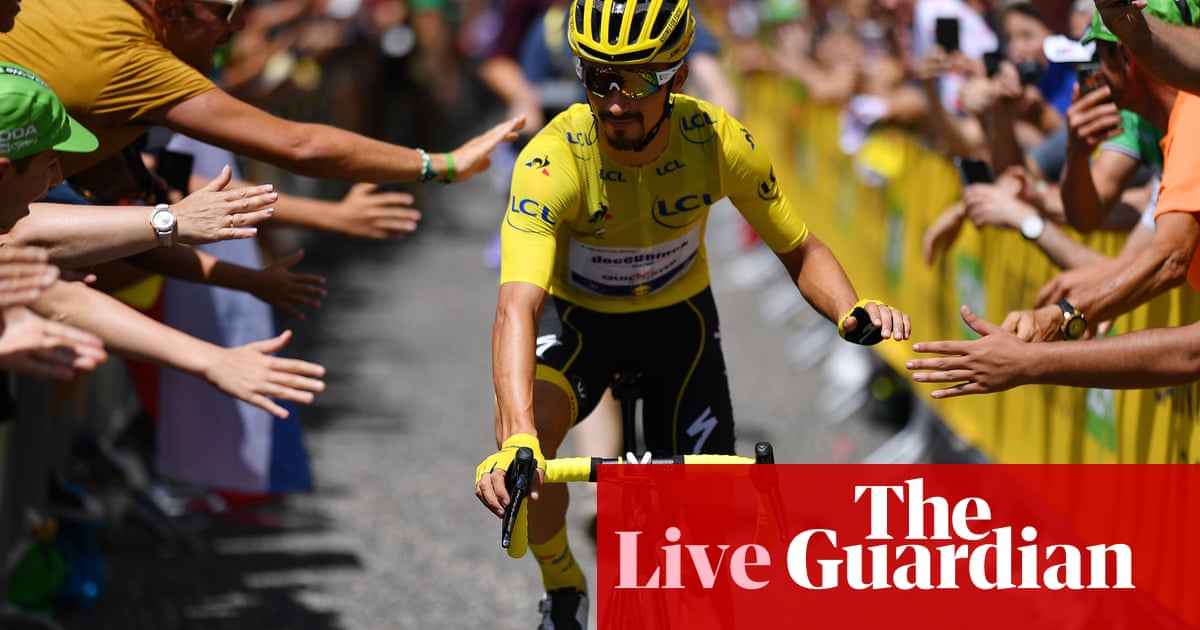 167km to go. Tim Wellens went alone, Billy-not-friends, to set an early pace. Nils Politt is next to break. It's about 75 kilometers an hour
Updated

And we are in the process
170km to go: t They went downhill, amidst the start of fireworks in the early days of the Bastille. The beginning that looks fast, with those who want to get into early seclusion, is already difficult.
Updated

Today's stage descends downhill for the first 10 km, which promises a quick start, followed by 7km up, 7km down before we start a tiring rise of Mur d'Aurec-sur-Loire. They are about 4.3km from the line, which is also downhill.
Updated

They're getting ready drive from Saint-Étienne, who is bathed in a magnificent / exhausting sun
"What a day for Pinot was yesterday!" MaliciousA says to Twitters. "Stacking in the bag and pulling Stomp On, he was thrilled with his heroism. Today it will be great, because it continues to strengthen its position. "Yes, his performance certainly spiced up things.
Some Frenchmen in yellow: Alaphilippe is 32th Frenchman who wore yellow at the start of the race on Bastille Day. The last two that led on July 14 were Tony Gallopin in 2014 and Thomas Voeckler three years earlier, although the first one had only one day.
Have pre-race readings for your enjoyment. Here's William Fotheringham on French hopes:



When the tide passes, Pinot looks more than strong enough, as he did at the end of last year when he won two stages in the Tour of Spain and Giro di Lombardia. So far, this tour has gone its way. While Bardet's AG2R team flopped, Groupama-FDJ tried more than expected in a first-week trial, which immediately placed it on the front legs, followed by a strong indication behind the winning Alaphilippe in Epernay, where it won five seconds. on Thomas. Slim choices, but they gave him an edge. His young, talented climbing colleague David Gaudu is also in brilliant form.
The whole piece is here.
Here's a report from Jeremy Whittle yesterday:
Preamble
Stage nine, Saint-Étienne to Brioude, 170.5km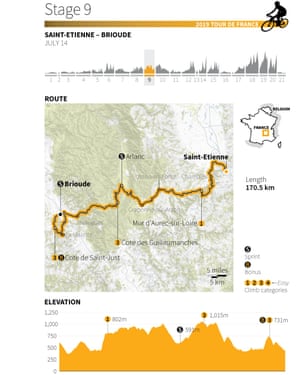 Good morning everybody, and the happy day of Bastille. These are the time for the French fans, one of them in yellow, Julian Alaphilippe, and another, Thibaut Pinot, who enters a serious fight for the total crown. Can 34 years of injury end this time? (And will we ever stop describing any sports title – drought as "xx year of injury?"). Nevertheless, this tour shows signs of warming after the first meander week, while Geraint Thomas has persistently shown in yesterday's stage from Macon to Saint-Étienne, hoping that last year's champion will retain the title.
Thomas's position may have been even stronger if he was not caught in a fall between Michael Woods and Gianni Moscon, from which he recovered strongly, but he lost 39 seconds to Alaphilippe and 28 to Pinot. "If I had not crashed, I could follow [Pinot and Alaplilippe] and then it's a completely different story, "Thomas said afterwards to ITV. "Thibaut Pinot and Julian Alaphillipe have a good kick and a kick – they are guys who watch and beat."
Today's stage, hilly, has an imposing early rise in the form of Mur d 'Aurec-sur-Loire, from which we should see the first separate stage and end with a 30-mile circle around Brioude (of course, Romanesque Bardet's birthplace) this should to be made for a bunch of sprinters who stayed in the rhythm. The ubiquitous Peter Sagan, the current leader of the counts, will, in particular, rejoice the suspects.
Today's phase starts at 12.25.
And since we start at Saint-Étienne, here are some free, and perhaps appropriate, pre-recorded music:
Preamble
Tom will soon come to guide you through the ninth phase.
Source link