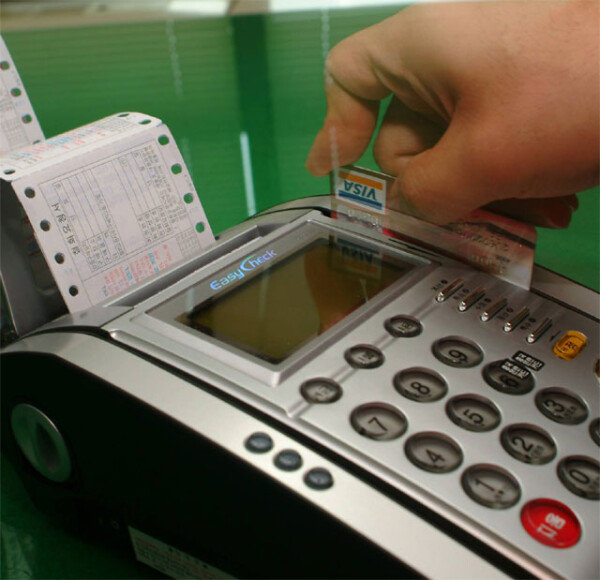 [자영업자 카드 수수료 인하]The card trader applied 93% of the preferred fee & # 39;
The next generation of traders with annual sales of 500-1 billion won
Increasing VAT on value added tax plus the fact that it is practically equal to a small rate of compensation
"Satisfied" with small businessmen "Minimum wages", "return" of political decision in the card industry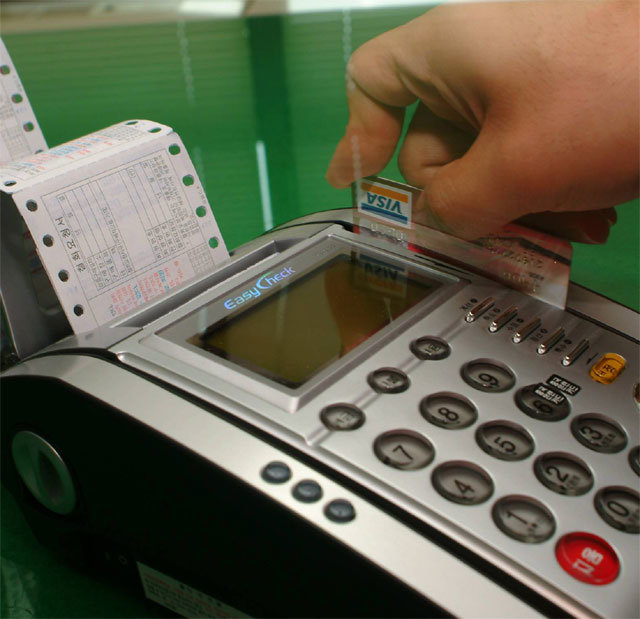 According to the Financial Services Commission (FSC) published on April 26, 2.5% of the 2.69 million sales cards at national level, 93 percent, were included in "preferential traders" who are subject to lower fees. From the end of January next year, almost all traders will enjoy privileged commissions.
In addition, the "general dealer", which causes annual sales of 3 billion to 50 billion won, is actually a way of reducing the cost of marketing card companies. It is pointed out that the excessive measure to reduce the commission to "small businessmen" that increase tens of billions of annual sales volumes, not small, medium and small self-employed persons.
More than anything, the government criticizes the government for spending the first time for a ticket for 11 years without any basic measures for the self-employed, such as the revitalization of domestic demand. The card industry, which needs to cut its commission by 1.4 trillion won, is in panic after the government cut commission last year.
○ Reduction of fees for "rich traders"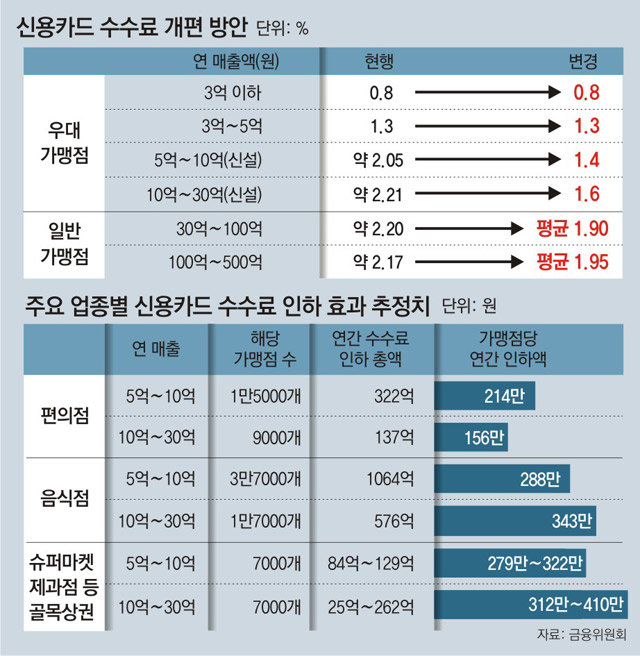 The bank said it will keep 0.8% and 1.3% of the cards for 2,261,000 small and medium traders with annual sales of less than 500 million won. Small and medium traders are still burdened with commissions of 0%, even if they include VAT tax credits. Instead, 240,000 traders in the second half of the 500 to 3 billion won annual sales ranges were included in the new concessionaire. The rates of commission for these credit cards for these franchises now fall from 2% to 1% from the end of January of the following year. The commission rate fell from 2.05% to 1.4%, and 46,000 franchises with an annual sales of 1 billion to 3 billion will fall from 1.61% to 1.6%. If the limitation of the tax rate on value added tax is increased to 10 million won, as the president of Moon Jae-in indicates, the real commission rate of 500-100 million won annual sales rates included in the new additive preferential franchisees falls to 0,1-0, 4%. It is almost equal to the actual commission rate (0 ~ 0.3%) received by the existing small and medium franchise.
In addition, ordinary franchisees with annual sales between 3 billion and 50 billion won, which are not subject to privileged fees for treatment, will see the effect of a reduction in commission from late January next year. According to a financial official, "there are currently 1.94% of large traders with annual sales of over 50 billion won, which means that the commission rate of 3 billion to 50 billion won is unfair to 2.18%." We will reduce this gap, "he said.
○ Card industry "How to pay one billion of wines"
Owners of small businesses and self-employed workers welcomed at the same time. Those in crisis for minimal wages and price increases have a voice that they are sick.
However, it was noticed that it was not reasonable to see a fee for reducing the commission to medium and large traders that increase billions or billions of annual sales victories. One card company official said: "It's incredible that fees and rates are higher than expected." This is a political decision to compensate traders over 3 billion won a year for commission reductions. "
According to a report from the Financial Supervision Commission (FSC), it is estimated that the capacity of the credit card sessions is about 1.4 billion won. Credit card company revenues have been reduced by $ 600 billion due to a policy that was previously announced, and credit card companies have again taken on a $ 800 billion downgrade. The card industry is moving to the emergency management system after the measures are inevitable.
"This measure is an anti-democratic tyrant that has even made democratic and social consensus among stakeholders," and said: "We are going to the struggle of a government that ignores a general strike," said the headquarters of the credit union for the development of the financial industry.
Cho Eun achim@donga.com … Kim Seong-mo · Hwang Sung-ho reporter
Close the window
You recommended an article
50 billion franchises with annual sales also benefit … The card industry lost 800 billion won
The best choice of news
Source link