Porsche Taycan is undoubtedly one of this year's hottest premieres. Not only is it an everyday vehicle, it is the first electric vehicle to balance fast, sporty driving, so there is a lot of interest in it. Ever since his conceptual model was introduced, interest in it has been growing daily. Now, less than a month before the official premiere date, we already have a dozen pre-orders in Lithuania alone, "says Rasa Klimavičiūtė, director of the Porsche Sports Center in Vilnius.
A car designed for sports
Porsche's first electric car disguised before its premiere is being actively featured around the world, with recent demonstrations in China, the UK and the US.
In New York, he made it to the finals of the Formula E ABB FIA World Electricity Championships and demonstrated his potential by turning the wheels on the track in New York.
"I was amazed at Taycan's racing skills. Its battery is designed for fast driving, and its energy management system is very intelligent, so even after one quick lap, the predicted single-charge mileage drops very slowly, "said Neel Jani, Porsche sports car driver in Taycano, New York.
After a test drive in New York, the racer stressed that the Porsche Taycan chassis was designed for high performance and reliability – just like a Formula E car.
Porsche will test the 2019 electric formula championship. in November. The racing Porsche Formula E has already traveled more than 1000 kilometers on the Spanish Cirlait Calafat track and is still being tested ahead of the upcoming ABB FIA Formula E Championship season.
Three continents in three weeks
The high-speed wheels complete the epitome of Taycan, Porsche's triple demo run. The electric car has appeared on three continents, the most important Porsche markets – China, the UK and the US. The cars that appear in each country are marked with the symbolism of that country – for example, in New York, the roof of the Taycan is painted with the American flag motif.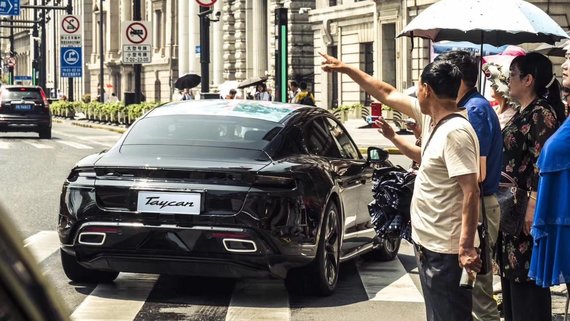 Manufacturer Photo / Porsche Taycan
In New York, the trail is set on city streets, in the port of Brooklyn, with Manhattan skyscrapers or the Statue of Liberty in the background of numerous competing photographs. Requires high levels of driving ability and durability of electric cars.
In China, Taycan has appeared on the new Porsche Experience Center track in Shanghai. During the demonstration, an electric car was driven by an Asia Porsche Carrera Cup Asian runner.
In Britain, Taycan appeared at the Goodwood Festival – Porsche's former Formula One ambassador Mark Webber struck a traditional Goodwood Festival of Speed ​​with an electric car.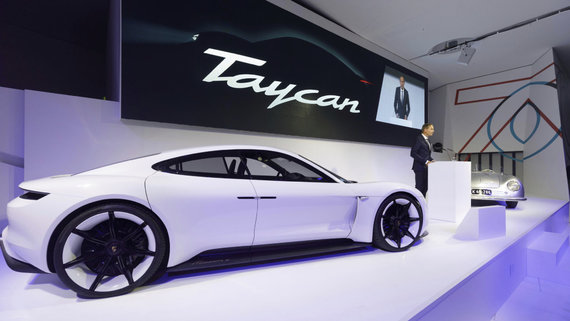 Scanpix / AP Photo / Porsche Taycan
The Porsche Taycan, a standard-production electric car, will be introduced in September and delivered to early buyers in early 2020. Pre-orders have crossed over 20,000.
Porsche also offers smart charging for electric vehicles at home and on the road – the Porsche Charging System digital platform has about 70,000 public charging stations and each can be recharged using the same Porsche system.
Prices have yet to be announced officially, but a basic version of Taycan is expected to cost $ 80,000 (€ 72,000) and the most powerful version of $ 130,000 (€ 117,000).