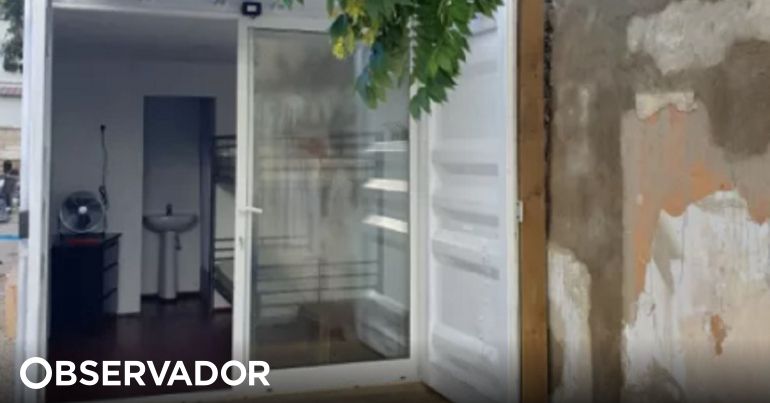 The Lisbon City Council on Tuesday ordered the "immediate removal" of 12 square meters of containers that could be rented for 600 euros on property pages. The advertiser explained to the observer that it was an environmental concept widely used in Europe, but the municipality said that the "apartments" – located in the back of the Marvilla building – They are illegal.
Fernanda Medina's office says that the land on which the containers are placed is private and that the Infrastructure Officer is not licensed: "The structures are illegal because they were not preceded by licensing of CML urban planning, and they are compromising living conditions and security / access to the site." Already João Mendonça, responsible for the ads, has said that the containers will be exempted from the permit because they are interchangeable buildings. The house is also progressing with the same newspaper that has already ordered the removal and demolition of containers.
Talking to an observer, João Mendonça, responsible for the ads, explains that the containers are made of recyclable material and represent a very small environmental footprint, since they do not imply "moving the earth." "It's a concept that applies across Europe, in many countries." The space includes two divisions: living room / bedroom with bunk bed and dresser and bathroom. There is also a "meal preparation area and lounge" as well as laundry facilities.
The websites that advertised – OLX and Imovirtual – described "apartments" as "refurbished and isolated eco containers". The same ads explain that only two people can live in these rooms.
But, despite ecological, the the ekontejneri generated controversy on social networks. João Mendonça tells the Observer that negative comments are due to the fact that the Portuguese are not used to such concepts and see the vessels as "tents".
Still, all six apartments were rented "the same day they were put on the market," he says. Customers? "Strangers," he says.
function loginGoogle(){ gapi.load('auth2', function () { auth2 = gapi.auth2.init({ client_id: '439313482366-dvdj8tsff9tpi5csb410roen1r9g3m5q.apps.googleusercontent.com', cookiepolicy: 'single_host_origin', }); auth2.signIn().then( function (googleUser) { onGoogleSignIn(googleUser) }, function (error) { console.error(JSON.stringify(error)); })
}); } var reautorize = false; function loginFacebook(){ var settings = {scope: ["public_profile","email","user_friends"],return_scopes: true}; if(reautorize){ settings["auth_type"] = 'rerequest'; } if(!document.getElementById("fbsdk")){ //If not loaded, load now, and return now var fbsdk = document.createElement("script") fbsdk.id ="fbsdk" fbsdk.src="https://connect.facebook.net/pt_PT/sdk.js#xfbml=1&version=v3.2&appId=1388666054753245&autoLogAppEvents=1" fbsdk.setAttribute("onload","loginFacebook()") document.body.insertAdjacentElement("beforeend",fbsdk) return; } //if the function did not returned early, it means the script is already loaded FB.login(function (response) { if (response.authResponse) {
var res = response.authResponse; var s = res.grantedScopes.split(","); if(s.indexOf("email") < 0 || s.indexOf("public_profile") < 0 ) { reautorize = true; $("form").find(".error-text.general-error").html('Para prosseguir é obrigatório partilhar o seu endereço de email. Volte a tentar'); } else { // Get and display the user profile data*/ onFacebookLogin(response.authResponse.accessToken); } }else { console.log('User cancelled login or did not fully authorize.'); } }, settings); }
Source link