Three new measles cases were confirmed yesterday in Styria. According to two confirmed cases this week, the number of patients this year increased to 12.
Three new measles cases were confirmed yesterday in Styria. According to data from 24ur.com, all three are infected with Slovenian citizens who have recently traveled to Bosnia and Herzegovina. Details of the disease are not yet known.
According to reports 24ur.com, the National Institute of Public Health (NIJZ) is checking all potential people who have been in contact with the sick.
The latest example of measles in Slovenia: the infected are not transplanted






comments:

7








At the beginning of the week, measles were confirmed by employees of RTV Slovenia, infected in the health center, and a man from Ilirska Bistrica, who is allegedly infected in BiH. The number of confirmed cases of measles in Slovenia increased this year to 12.
You can test the resistance to measles using the test
Anyone who is not protected against measles is at risk of contact with the virus. It is therefore important that we know our vaccine status and accordingly take appropriate action. If we are not sure of our protection, we can check it with a laboratory test for self-testing.
Testing can be done at the Institute of Microbiology and Immunology at the Faculty of Medicine in Ljubljana. The testing costs should be greater than 12 euros, and in Ljubljana, Kranjska and Maribor, the National Laboratory for Health, Environment and Food. The cost of testing is about 21 euros.
Vaccination of young people under 26 years is covered by compulsory health insurance, and the rest can be done with prior agreement with the chosen doctor or in the regional unit of the NIJZ. The price is 21 euros for one dose.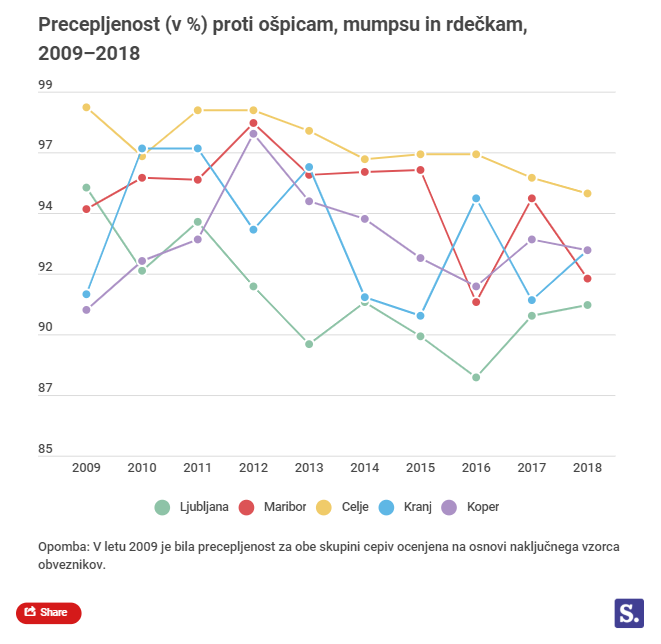 Most unvaccinated in the Ljubljana region
In Slovenia, the incidence of adulthood in the overall population is reduced according to NIJZ data, and we do not achieve more than 95% of the prevalence that still provides collective protection. The smallest occupancy is in Ljubljana (more in the chart above).
According to data from 2018, 90.2% of the population is vaccinated, which is below the recommended limit. As noted above, two complete vaccines are required for complete immunity, providing almost 100% protection against viral diseases.
Two new cases of measles, public video service #video is also infected






comments:

20








The biggest concerns are Iceland, Sweden, Hungary, Slovakia, Croatia and Portugal.


Photo: ecdc.europa.eu


European policy: exacerbating sentences for non-vaccinated parents
While in Slovenia, the Ministry of Health, which leads it Aleš Šabeder, changes in the law on infectious diseases are predicted by the end of the year (more in the Pooštre penalties for the parents of unvaccinated children in Slovenia?), in foreign countries, especially in the countries of Western Europe, the policy already leads an offensive against parents who do not want to vaccinate children for non-medical reasons .
In the foreground is a ban on the entry of unvaccinated children into kindergartens and schools, as well as fines. In Germany, 170 cases of measles were detected in the first two months of this year, which according to media reports has significantly increased compared to previous years.
Minister of Health Jens Spahn Therefore, at the beginning of May, he presented a draft law prescribing the mandatory vaccination of children against measles (now not mandatory). Unaccounted children would be excluded from kindergarten, and parents of non-vaccinated primary school children would have to pay up to 2,500 euros in fines. The law prohibits enrollment in school, because primary school is obligatory by law, while in kindergarten there is no school attendance.


German Health Minister Jens Spahn proposes compulsory vaccination against measles (now voluntarily in Germany) and relatively severe sanctions for parents who do not vaccinate children in a European context.
Photo: Reuters


Italy: Children without children locked doors of kindergartens and schools
Although the proposal of the German minister is still under consideration, his Italian counterpart Giula Grillo This year, the implementation of the adopted law began, which obliges citizens to vaccinate 12 diseases and prohibits children from entering schools and kindergartens unless they provide evidence of vaccination. Please note that during the adoption of the law, parents were threatened to seek asylum in nearby Austria, where vaccination is not yet mandatory.
In Italy and France, where recently a law prohibiting enrollment in kindergartens, in the first months of this year, the number of measles cases more than doubled (in both countries between one hundred and 170 cases a month).
In mid-April, in 960 cases of measles, in northern Macedonia, an epidemic of this disease was declared, leading to the hospitalization of 70 children. Seven were in critical condition in mid-April, three babies died. Their public health institute is to protect the youngest, to reduce the age of the measles vaccine from 12 to six months.